Roundtrip flights from Orlando to Seattle cost us about $450 per person. The only direct flights to and from are on Alaskan Airlines. We were going to Seattle to attend the wedding so I wasn't able to book a direct flight in. It took us about 8 hours to get there with the 1.5 hour layover in Houston. Every flight we were on was packed and they were asking people to check their bags free of charge at the gate to accomodate everyone's carry on luggage. It is amazing to me that no complimentary movies or food (besides free beverage) were available on any of the flights. Most of our flights were at minimum 4 hours.
Quick tip: We fly Jet Blue whenever possible. Jet Blue's main cabin seating seems to roomier and they provide free tv/movies and decent snacks.
We booked our flights on United and Alaskan Air. Best car rental rate was with Dollar. We were able to reserve a compact SUV for what most places were charging for a smaller car.
Quick Tip: Economy plus seating on airlines is definitely worth the additional money. You don't realize what a big difference it is until you are crammed in like Sardines in the main cabin.
I wasn't too sure what there was to do in Seattle so we decided to stay only 2 nights. I found out about a couple of things that we would have liked to do after I booked the flight. I would suggest staying in Seattle at least 3 nights to enjoy the city and most of what it has to offer. My first thoughts as we were driving away from the airport is that this placed seemed so clean, like the air was fresher here and the abundance of trees was beautiful to look at.
We had a complimentary Marriott night at one of their class 5 hotels. There were no Marriotts located near the town of the wedding so we decided to stay in the city and rent a car. The wedding was in Everett which was only about 30 minutes away. I ended up booking a room at the Marriott Courtyard in Pioneer Square in downtown Seattle. Many of the reviews were for the hotel were good on Trip Advisor. The building had recently been acquired by Marriott and remodeled. When we arrived, the lobby was nicely decorated and the check in process was smooth. They gave us a room up on the 12th floor. We were facing another building which wasn't the greatest view but it wasn't like we were planning to hang out in the room much. The room, including bathroom, was very clean which is important to me. The decor was modern and bedding was a nice white down comforter with feather pillows. The room was tiny – barely enough room for the king size bed, desk, flat screen tv and closet. We had to remove the extra hangers out in order hang up about 4-5 items. There was also no safe in the room – which I thought was standard for any hotel nowadays. I was not familiar with the area when I booked the room and a few reviews had mentioned the area being a little seedy in the evenings. We found that the location was perfect – walking distance to Pike Place Market which is a major attraction in the area. In the evenings, we took the car out and dropped car off at the valet so I didn't really witness too much seediness in the area 🙂 I felt perfectly safe walking around during the day. It seemed like there were a lot of homeless people in the area but at times it was hard to tell difference between some of the grundgey naturalists and the homeless people. We learned that funds from a paper called "Real Change" goes toward helping homeless people. So when you see a person on the street selling it, buy it. You're helping a good cause!
Quick tip: Request a room with a view of the water at the Marriott Courtyard at Pioneer Square. Also the rooms with a double beds seemed to be quite a bit larger if you desire more room. I didn't realize that these options were avaialble until I walked passed one of the rooms that was being cleaned on our way to our room.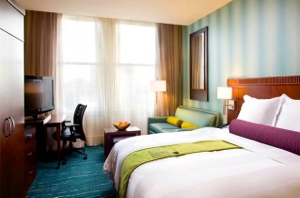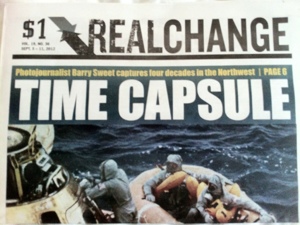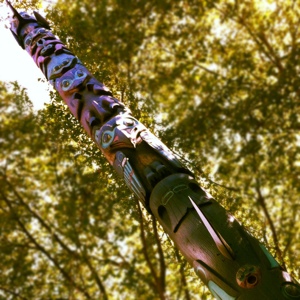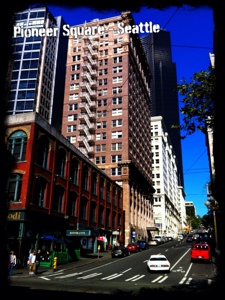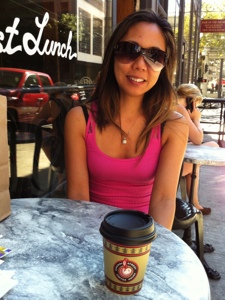 I had been searching for whale watching tours online when I came across Seattle Food Tours on Yelp. I had never been on one and thought it might be a nice way to experience the city in the short amount of time we were staying. I had heard that Seattle was a place of great restaurants and it would have been difficult to choose one or two to go to. Besides, Jonathan is a huge fan of the Food Network and always wanting to try new things. I am not quite so adventurous with my food tasting but definitely willing to give this a shot. There are several food tour companies in the area and I made my choice based on the time of the tours and the reviews on both Yelp and Trip Advisor. It had to happen on Thursday evening because I was trying to find a whale watching tour on Friday. We had the wedding on Friday night and then leaving first thing in the morning on Saturday. I ended up booking with Seattle Food Tours (www.seattlefoodtours.com). The dinner tour of Belletown was $59 per person. It included 5 stops with food or drink at each stop. The tour was amazing – we were able to learn some history about the city while sampling some of the best local cuisine. I had also chosen this company because they keep their groups smaller – no more than 10-12 people. It was nice to meet some new folks and be social for the evening. I became very famiiar with words like "sustainable" and "organic." Seattlelites are all about conserving their environment. Restaurants we visited on the tour were:
Local 360 – They feature local foods and beverages that can be found within 360 degrees of the location. We were able to sample some local oysters and for those of us that don't like oysters, we were able to try the soup of the day which was a tomato gazpacho with olive oil. The oysters were petite in size but Jonathan found them tasty. Like I said before, I am not adventurous when it comes to new foods and was nervous about eating gazpacho. When they first brought it out, I thought it looked like a cranberry puree – EEK. Cold soup does not sound appetizing to me but it was actually pretty good. The hint of olive oil in it was very tasty too.
Rob Roy– local bar with a 50's vibe known for their twists on original cocktail recipes. It was definitely a bar we would love to hang out in. Lots of couches – very retro with a wall of vinyls at the back of the bar. Instead of bar nuts or popcorn, they served goldfish.
Shiro Sushi – This was one of my favorite stops. They actually let us come in prior to the restaurant opening. Apparently, it's very popular and requires reservations. The owner, Shiro, was there preparing the sushi for us. His mentor and trainer is Jiro – who is featured in a documentary called Jiro Loves Sushi which is on Netflix instant video. We were served nigiri style sushi – tuna and smelt. Shiro is particular about the way his sushi is eaten – we eat with our hands (no chopsticks) and it is not served with wasabi or soy sauce. Ginger is avaialble but not meant to eat with the sushi. It is meant to be a pallet cleanser and eaten prior to and between each piece. The sushi is specially seasoned or marinated and this is why no soy sauce is required. On the tuna, he included a tiny layer of wasabi between the fish and rice. I have never eaten nigiri but I think that drink loosened me up and I went straight for the tuna. It was delicious! The tuna melted in my mouth. I tried the smelt as well. Everyone at the table seemed to like it the best, but I preferred the tuna. Smelt is not something most sushi chefs serve but Shiro is all about using local foods that are in season. Apparently, I have now been spoiled because nigiri doesn't typically taste this good.
Branzino – primarily serves Italian dishes but menu options will vary depending on what is in season. Branzino is actually a fish found locally in the area. They make all of their pasta in-house and one of the co-owners is there every night walking the tables and talking to the clients. I felt like we were in his home – as he told us about the dish that they prepared for us. It was a short rib pork parpadelle and it was amazing! Both the pasta and sauce were very light and the short ribs were flavorful. Our dinner also included a full glass of wine – he opened 2 bottles of Malbec for us. I'm not much of a red wine drinker but really enjoyed the Malbec that was served. It was a nice fruity blend without being sweet or having the bitter taste that most reds have.
Spur Gastro Pub – They served us a dessert – Melon and some sort of berry ice cream (made in-house) served with a few berries, crumbled cookie crust and 2 small pieces of melon. I wasn't crazy about it but then again I don't really like melons.
Portions at each stop were small so we decided to order some pork belly sliders. Tons of people were ordering them so we decided to do the same. I have never had pork belly before but these sliders were so tasty. We also ordered a couple of cocktails – I chose a champagne based drink with lemon and gin and Jonathan ordered a bourbon drink that was a special that night.
Overall I would definitely recommend this company for a food tour. Food and beverages at each stop were really good and the tour guide, Leslie, was awesome too. It was perfect because we were able to sample so many different places. And if you were to check any of these places on Yelp or Trip Advisor – they have a ton of positive reviews. One of the couples on the tour said they normally book these types of tours when they visit a new city and form a list of places they would like to revisit. Jonathan and I plan to look for more of these food tours when we go on vacation.
Quick tip: Be prepared to pay for parking if you rent a car and stay in the city. Our hotel charged $28 plus $6 tax for valet parking. You can only park on the street for a max of 2 hours. Otherwise, you will need to find a garage. We ended up paying at least $10 at each of the garages/parking lots we used.