Quick tip: This year I booked our vacation starting on Monday vs. Friday or Thursday. I felt so much less stressed out having the whole weekend to pack and prepare for the trip.
Day 1:
Jet Blue flight arrived on time 🙂 We picked up our rental car and we were on our way. Unfortunately when I clicked on the address to hotel from the email on my phone it did not google the correct address and we ended up lost and in the hood. Very scary!!
We finally made our way back to the highway but keep in mind when you take an exit off the highway, most of the time you end up on another highway. We ended up going off course quite a bit.
What should have been a 20 minute ride turned into 1.5 hour ordeal. Not a great way to start our vacation but now you know – TYPE the actual address into your GPS on your phone. Driving into the Condado area is not too impressive. Perhaps we can drove in the back way or something. I was feeling a little nervous about our hotel. When we pulled up, it did look a little run down.
We finally arrived to La Concha Renaissance Hotel and we checked into our room. We had booked a room with an ocean view and when we got up there it was pretty small room. The room was big enough for the king size bed – no desk or sitting area. It was quite surprising but we didn't know what the rest of the rooms looked liked. Our room had an exterior door with no lock that led to two rooms at the end end of the hallway. One of them was ours. It didn't seem very safe – someone could mug you back there and no one would ever know it.
The view was very nice. The hotel has a small private beach as well as a pool looking out towards the beach. We ended up requesting another room but we were starving and went down to the bar for a "quick bite" to eat first.
Atmosphere is really nice – very cool and laid back. Lots of white furniture. We ordered a few drinks. My mojito was $11. I suppose we should learn to expect that at a hotel in a touristy section of town. We ordered Churrasco and Fries to share. It took about 35 minutes for our food to arrive. I think our bartender forgot about our order and brought us some plantain chips and guacamole free of charge. The food was decent but the experience wasn't so great. Our total bill added up to $42 for 2 drinks and a lunch entree.
We requested a different room and were moved to a lower floor. The front desk person was extremely nice and said the other room was the only one avaialble at the time of check-in. He understood why we wanted to move with the room being so small. It was meant to be a connecting room with a larger room or suite.
We walked into our room – what a difference. There was a desk and seating area. Looked at the bathroom and it was clean but the shower was a little grimey. I have this weird thing about dirty looking grout. Although the room was an improvement, there was an extremely loud vent running outside. Try to avoid staying on the 4th floor if you stay here. We felt like we were being a pain but requested another room.
This time we were moved up to the 10th floor. Funny because this was room was slightly larger than the first room and slightly smaller than the room on the 4th floor. I had read on trip advisor that the newer tower had the nicest rooms and requested one over there but was told that no rooms in our category were available. We had booked an ocean view room with Marriott points and the new tower only had suites. We settled in because we were tired after traveling all day.
Finally around 7pm, we decided we needed to go eat and Jonathan found a restaurant on YELP with 4 stars and over 200 reviews. It was called El Jibarito. It was located in Old San Juan which is about a 3 miles away from the hotel. We had to park in a garage and walk about 4 blocks to the restaurant. Kind of spooky walking around there at night – the streets are narrow and not well lit. There were lots of people walking around so I guess it's safe.
We get to the restaurant and it was packed. Yelp rarely lets us down! We split a dish of pork stew, rice and red beans, side salad and ordered a side order tostones (fried green plantains). The garlic sauce for the tostones was really good. We saw good reviews for their garlic chicken and shrimp so I have to imagine those entrees were delicious too with that garlic sauce 🙂 Our dinner came to a total of $17. We didn't order drinks – just bottled water. What a bargain!
Got back to the hotel around 9pm and we showered got ready for bed. Although the hotel is very clean and decorated nicely – I had an issue with the shower. They attempted to make it a modern walk in shower where only half is covered by a glass enclosure. It's kind of small for that design and you end up getting cold. The water does not drain properly and there is standing water left sitting in your shower. Kind of gross. Going to have to ask for a squeegee or something to get rid of that water. Jonathan called it a "shabby renovation." Obviously we have minor issues with the standards here but the service is outstanding. All of their staff are friendly and manage all of your requests as best as they can.
Day 2:
We consulted YELP again and decided to go to a local spot called Pinky's for breakfast. It's about 4 blocks away from the hotel – right off of Ashford Ave. YELP did not disappoint. We both enjoyed a hearty breakfast and cafe con leche for about $12.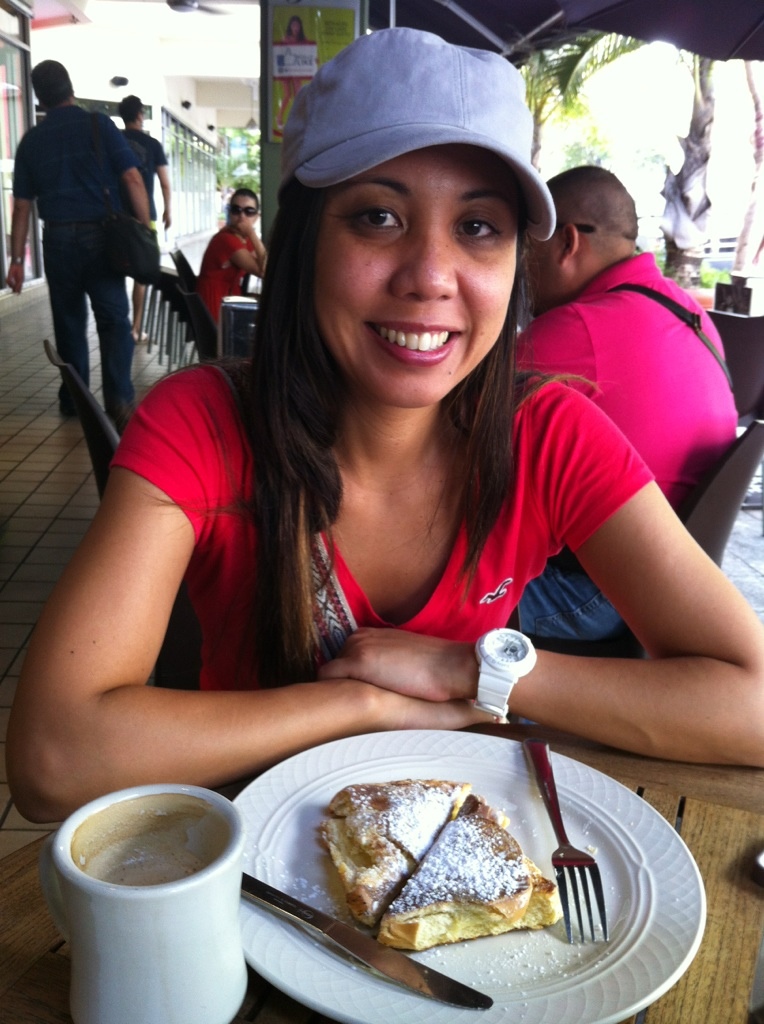 ;
The sun was out and we decided to have a beach day. La Concha has a small private beach and as guests of the hotel they set up beach lounge chairs and umbrellas for you – free of charge.
After a couple of relaxing hours on the beach, we decided to visit the pool area which is very nice. You will have to get there early if you want to find seating with an umbrella. We cooled off in the pool and then decided to leave the hotel for lunch. We asked one of the bell hops for a suggestion and he directed us to a place called Pure and Natural. It was practically next door to our hotel. It's one of those all natural healthy food places. They had quite a selection of raw juices and shakes. Pricing wasn't horrible – we paid about $22 for two sandwiches and a lemonade. However, it took a very long time for them to prepare an egg salad sandwhich and a grilled mahi mahi sandwich. The place was ok – next time we may just try Pinky's again for lunch.
The gym is open 24 hours for those of you that like to work out late night. It's a decent facility with fairly new equipment. Great view of the beach from all the cardio machines.
After doing some research on YELP again, we decided to go to Jose Enrique's for dinner. The restaurant had 4.5 stars with about 65 reviews. The reviews did mention it was difficult to find and it was. There isn't a huge sign outside the door and not really well lit outside. We actually drove right past it – I thought it looked like a house on the street. There is only street parking so we had park a few blocks away in a lit parking lot.
We finally get there and the hostess tells us it's a 1.5 hour wait. The place was packed but we were hungry and decided to find another spot. We ended up having dinner at Cafe de la Plaza. It was across the plaza which was packed with locals. We ordered a couple of drinks and Mofongo with Churrasco. It was served with a red sauce and pretty tasty. Our bill came to about $30.
Quick Tip: I would suggest trying to get to Jose Enrique's right when they open at 11am to avoid a long wait.
Day 3:
Breakfast at Pinky's again 🙂 The sun was out so we hung out at the beach again. This time we were able to find a little cabana facing the beach. I have to say that the grounds and amenities here at La Concha are really nice. They have several several different pools – one actually faces the beach. Atmosphere is very laid back and they have servers from there poolside restaurant out and about taking food and drink orders on the beach and by the pool.
We stopped by a pizza joint for dinner down the street from the hotel which was a bit over priced – $3.95/slice. Pizza was pretty good but I love pizza – even the frozen kind 🙂 It was July 4th and we were able to see the fireworks on our walk home to the hotel.