Day 4:
Rain rain go away, come back another day. We were picking up Jonathan's Dad from the airport today and we had some time to kill so of course we went to the mall. The mall in San Juan is called Plaza Las Americas. It's a huge mall – think there were 3 different levels. After the mall, we spent the rest of the day with family.
Travel Quick Tip: Firehouse Subs at the mall is VERY SLOW. They give out beepers for each order – this makes it look like there is no line but in reality there are tons of orders ahead of you.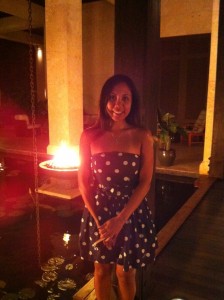 After spending most of the day with family, we are off to the St. Regis. It's located in Rio Grande on Bahia Beach and is very secluded. It was difficult for us to see the property on the drive in because we were checking in around 11pm.
The entrance to the plantation house is impressive with fire pits lining the walkway up to the oversized front door. The check-in process was quite personable. We are seated down at a desk in what looks like a cozy den. We are given a map of the property and our keys and the bell man proceeds to take us and our baggage to our room via golf cart.
We stayed in a standard room and it far exceeded our expectations (check out this video tour of our room at the St Regis, Bahia Beach). Decor is plantation style – dark cherry wood furniture, recessed beamed ceiling and rattan ceiling fans. Neutral tones used throughout the bathroom. Bathroom has a rain shower that is almost as big as the rest of the room. The mirror in bathroom even has a TV! Not sure I will actually use it but it was pretty cool.
Double vanities in there too. As I have mentioned before, I'm really picky and there was a musty smell in the room but I don't think the room had been used in a while. I can't imagine that they are ever 100% booked with the prices they charge here.
Entrance to Plantation House:
Day 5:
Our mini boat snorkeling tour is scheduled for today 🙂 We had to be in Fajardo at 8:30am. According to Google Maps, it's about a 25 minutes away. We left about an hour early so we had time to stop for breakfast. There is always traffic around here so be sure to give yourself extra time to make it anywhere. It ended up taking us an hour because there was a bad accident on the way.
After check-in, we get loaded onto our mini-boats.
Travel Quick Tip: There is not much room in the dry storage area so I would suggest bringing as little as possible – towels, sunglasses, sunblock.
As soon as we start our engines to head out of the marina, our boat stops working. They try to fix it but are unable to and we have to ride with the tour guides. Kind of a bummer since so the cool thing about the tour was getting to drive/ride in your own mini boat. They apologized and we were refunded the whole amount back. The tour guides were great – Efrain & Gilbert.
Water was a little rough so we it took us longer to get to Palomino island and we only ended up stopping at one snorkeling spot. The snorkeling was pretty average but the boat ride out to the island was fun. We hung out on Palomito Island for about an hour. This is the island where the filmed Pirates of the Carribean 4.
Even though we slathered on the sunblock, we got plenty of sun today. The entire trip was about 3.5 hours. We ended up having lunch at the restaurant there at the marina (Marina Puerto Chico). We had carne frita and rice and beans. It was very good and I don't think we spent more than $20. We were pooped by the time we made it back to the resort and ended up taking a nap after showering and getting cleaned up.
Travel Quick Tip: For $15, the kayak company takes pictures of you throughout the excursion and emails them to you. You also receive one 5×7 print. Well worth the money.
We decided to eat dinner at the hotel restaurant, Fern. It is operated by a world-renown chef – Jean-Georges Vongerichten. Not sure who that is but I'm not familiar with too many chefs unless they have a show on Food Network. The food was a bit fancy for me and ended up ordering a tomato, basil and mozzarella pizza which was not that great. How do you mess up pizza? I like cheese on my pizza and I think they put one small slice of mozzarella on each slice.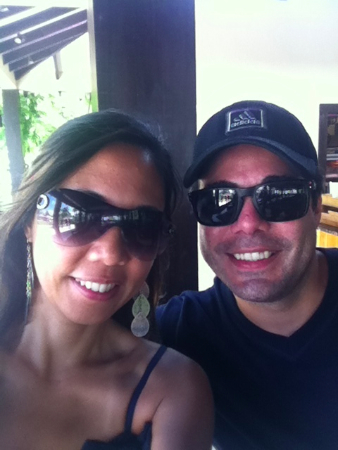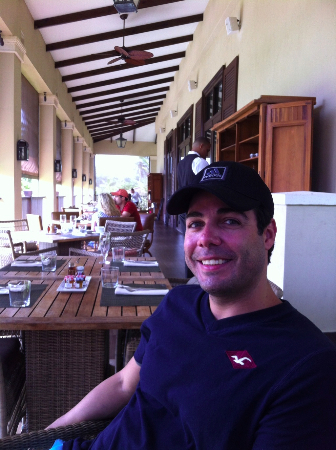 Jonathan opted for the salmon dish. He seemed to enjoy it. I had a few bites of his creamy mashed potatoes and they were delicious. They served a little grouper hush puppie and some yummy bread. Our bill came to about $50 – which was for an appetizer and dinner entree. We didn't order any drinks, just water. In my opinion, the food was average at those prices.
Day 6:
Like most Starwood Properties, they offer complimentary coffee & tea in the lobby or in this case the Plantation House. We enjoy a cup of coffee and take up with us to Fern for breakfast. This is the only retaurant on the property that serves breakfast. We ate breakfast out on the terrace which had a beautiful view and wonderful breeze. Jonathan ordered the cold buffet and I ordered a basic breakfast (scrambled eggs, potatoes, tomatoes). It was a standard breakfast and ran us about $40.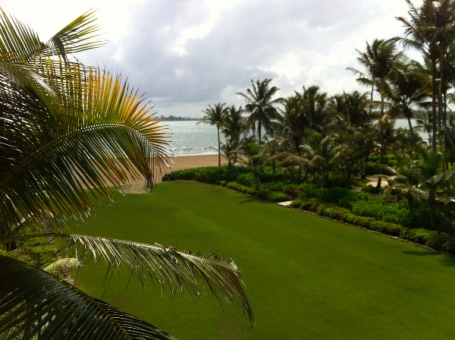 We hung out at the pool bar for a bit and enjoyed some tropical drinks. Of course they weren't cheap – $17 each. But they were very good and there was nice breeze while we were out there. We saw someone order one of those oversized bottles of Fiji water for $10 – CRAZY!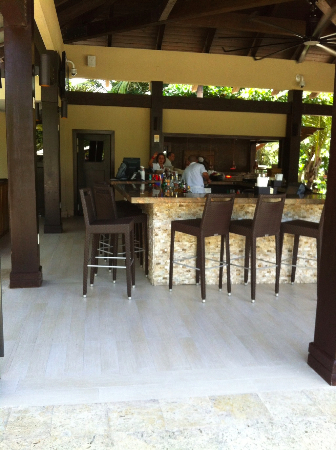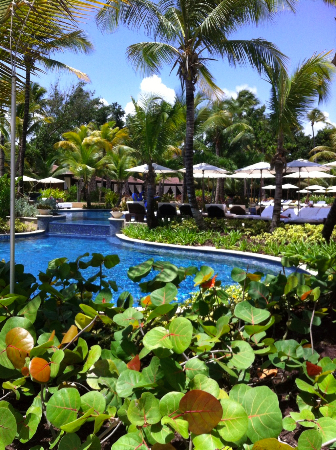 For lunch we ventured off the resort and ate at La Familia Bakery for lunch. Thanks to Trip Advisor for helping us find this little gem. They serve sandwiches and of course baked goods. Unfortunately they turn their press off at 2pm and we were not able to order hot sandwiches. The gentleman at the bakery offered to make us cold sandwiches which was very nice of him. We ordered a ham and cheese sandwich, 2 donuts (which tasted very fluffy and delicious), and 2 cafe con leches for $9. What a bargain! They open at 6am so we will definitely be stopping by for breakfast on our way out of town.
Travel Quick tip: La Familia is busy in the morning so plan to wait for your breakfast. Food is good and I would definitely go back for breakfast but it was kind of stressful when we trying to get to the airport that morning.
We decided to check out a place called El Verde BBQ for dinner. It seemed like a place where people go for local puerto rican dishes like rotisserie chicken, rice & beans, lechon, yuca, etc. We ordered lechon and arroz con gandules for about $7. Good food for a great price!

Travel Quick Tip: It's not a fancy place – there are a couple of tables and benches to eat there. I would suggest just picking up some food to go from here.
Overall, the St. Regis property was beautiful. It really is more of a retreat because of it's location. I would highly suggest having a rental car if you want to avoid eating at the over-priced restaurants on site. The pool area was beautiful and there is access to Bahia Beach which is pretty.
Unfortunately, we don't play golf so we didn't get to experience that part of the resort which is one of it's major amenitites. As part of the resort fee, you can also use non-motorized equipment at the boat house (paddle boards, canoes, etc). Personally, I prefer the W Spa and Retreat at Vieques because of the location – it offers the beach and several different pools which offer more privacy. The atmosphere and decor was more hip and fun for us.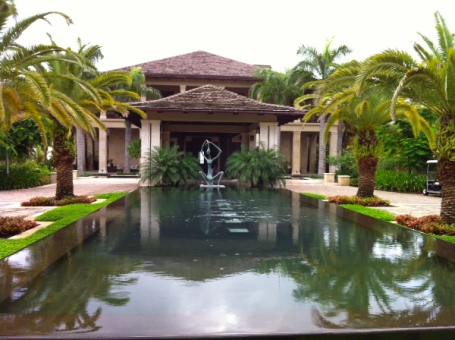 Day 7:
Headed back home to Florida. JetBlue flight was ontime and we landed 20 minutes early!