Our journey starts at the Hilton in Union Square San Francisco.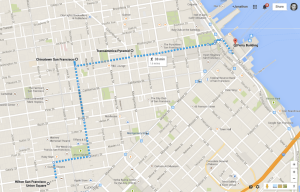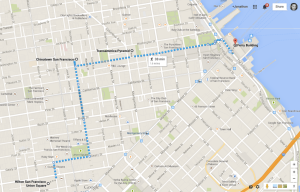 After talking to the conceirge we planned a trek through China Town and underneath the TransAmerica Pyramid all the way to the market inside the Ferry Building.
Then we took a bus to Fisherman's Wharf where we ate lunch at the Fog Harbor Fish House over looking Alcatraz.
From there walked over to the Trolley Car station on Lombardi where we waited over an hour get a ride back to Union Square.
Pro Tip: Don't wait in those long lines to get on the trolley car. Buy your ticket and then walk up a few stops.