Quick Tip: Early morning weekday flights (around 6am) are pretty empty. We had a row all to ourselves.
We flew into LaGuardia which is a pretty short trip to the city. Our departing flight was out of JFK and that takes at least 30-45 minutes to get there. Cab fare is a fixed price but still more expensive than the cab ride from LaGuardia. We arrived early on a Thursday morning and decided to go on a mid-day food tour since check-in at our hotel wasn't until 3pm.
I did some research prior to the trip and we decided on a Central Greenwich Village tour through Foods of New York Tours. Many of the other tours we looked at seemed to be more snack type items like a little dessert, sample of coffee, etc. The official name of the tour was Central Greenwich Village (and a bit of SoHo) Food Tasting and Cultural Walking Tour.
We stayed in the Times Square area and we were able to take a single train downtown just a couple of blocks from our meeting place. Raheem was our tour guide and he was very knowledgable about the neighborhood and it's history. We also walked through Washington Square on our way to the last few stops in SoHo.
Be sure to come with an appetite because they served up some decent size portions at each of the stops. There is also an opportunity to order some wine and cocktails at a couple of the stops. Below is a list of all the stops we made during our tour.
Cafe Dante – Oldest Italian Cafe/Eatery in Greenwich Village
We enjoyed an Italian Mortadella & Mozzarella Sandwich on Ciabatta Bread at this cafe. It was delicious and I was actually a little full after eating the half size sandwich. The ciabatta bread was so tasty and toasty right off the press. Raheem told us this was an old school type of cafe – no electronic devices and laptops allowed. They believe in not being distracted by the different types of media available today and just want you to enjoy your book and your cup of coffee and/or food while you visit.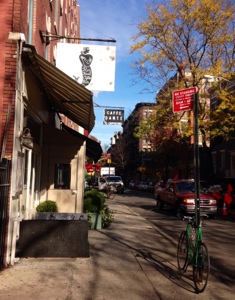 Masala Times – Indian Street Food Eatery
This little place was quite busy and we sampled a generous size Indian Kati Roll. A kati roll is authentic street food like you would find on the streets of Bombay. It consisted of scrambled eggs, peppers, seasoned heavily with cumin wrapped in buttery type grilled tortilla. Place had signage with funny comparisons between Bollywood and Hollywood movie scenes.
Monte's – Homestyle Italian Restaurant
This was our initial meetup point. Authentic Italian restaurant which had been there since 1918. When we arrived, Jonathan was pretty hungry so we ordered an appetizer while waiting for the rest of the tour group to arrive. Jonathan chose a portabella mushroom with a balsamic vinegar sauce. I have to say it didn't look very appetizing when I saw it but turned out to be pretty good. Raheem had mentioned that most good Italian restaurants were no longer located in Little Italy so don't go there expecting to find authentic Italian restaurants with grandma cooking in the kitchen. Supposedly many Chinese business owners have bought up some the restaurants in that area. We circled back here mid-way through the tour for small bowl of Bolognese pasta. We were able to pair with a glass of wine or beer for an additional $10. I enjoyed the pasta but would strongly recommend it with the grated cheese they had on the side. I can't recall the type of cheese it was but it wasn't Parmesan.
Porto Rico Importing Co – coffee and tea shop which offered every type of coffee bean you could imagine. It smelled yummy in there. We didn't get a sample of anything at this stop but Raheem gave us a few minutes to shop.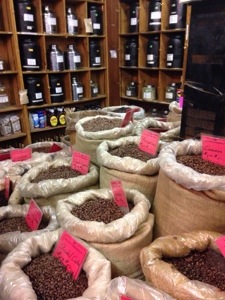 Minetta Tavern
Quick stop in front where Raheem told us about many of the well known poets and writers such as Ernest Hemingway and E.E. Cummings used to frequent this steak house. It's supposedly a great steakhouse with great reviews online.
Cuba – Cubano Restaurant
This was one of my favorite stops since I love a good empanada! We sampled a couple of different types of empanada and of course some maduros. We were able to add on mojitos at this stop for and additional $10 and they were really yummy! The restaurant was really cute – I remember a lot of brick everywhere. We sat in a private room where they had a bunch of pretty white curtains hanging from the ceiling. Reminded me of the early scene from Mr. And Mrs. Smith with Angelina Jolie and Brad Pitt when they got together in Cuba.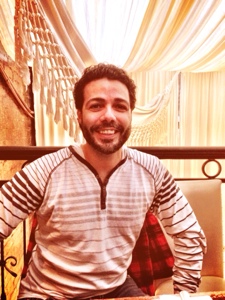 Sullivan Tea and Spice
Stopped in the visit this historic store front and shopped for a few minutes. Jonathan and I had to purchase some truffle salt which smelled delicious – perfect for seasoning popcorn, potatoes, etc. I added it to some homemade mac and cheese and it was pretty good! They had a wide variety of cute jars and tins to choose from for each of your purchases. The back door was an original door with speak easy opening.
Raffetto's Pasta Shop
Quick stop here to visit this pasta shop that has been open since 1906. Jonathan and I love all the fresh foods that you can purchase daily in the city. How nice would it be to stop by here and pick up some fresh ravioli for dinner on your way home from work?
Rabbits – American Eatery
This was a tiny little place on the edge of SoHo. We sampled a pureed tomato soup there. I was too full to try it and Jonathan said it was ok. Reviews online are varied from real great to mediocre. It was a tight squeeze for all of us in there and I didn't get a good look at their menu. They do serve breakfast and lunch – mostly sandwiches I think.
Once Upon a Tart – Bakery/Cafe/Eatery
At this stop, we sampled a French Chocolate Pear Tart. I was still too stuffed but Jonathan said it was pretty good.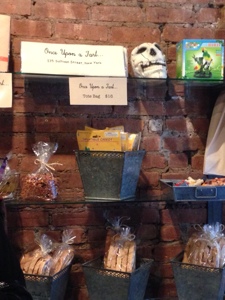 Camaje
Popped in really quickly where Raheem introduced us to the Chef – Abby Hitchcock. She used to be the chef on the Martha Stewart Show. Raheed said that she hosts dining in the dark events quite frequently too.
Washington Square
You can see the Empire State Building in the background behind the mini Arch of Triumph.