We decided to check out Pike Place Market the next day. We went early to grab a bite of breakfast as well. It was about a 15-20 minute walk from our hotel. The weather was really nice too – around 65 degrees. The market opens around 8am but most of the vendors don't open until about 10am. It was nice to go there in the morning because it was not very crowded. We ate breakfast at place called Three Sisters Bakery. The pastries were really good. Coffee at most places in Seattle is also very good. Coffee seems to be more full bodied vs. the watered down versions you find in most diners in other cities. After breakfast, we decided to walk around and map out the different food vendors we wanted to try later on that afternoon for lunch.
Quick tip: Instead of taking another food tour of the market, I checked out the different spots that were listed on the food tours of Pike Place Market.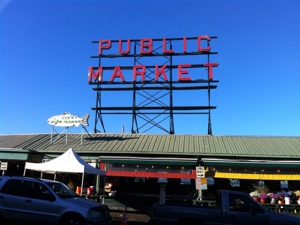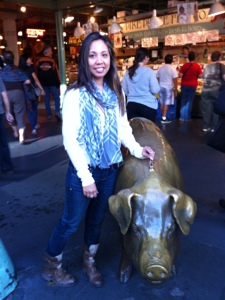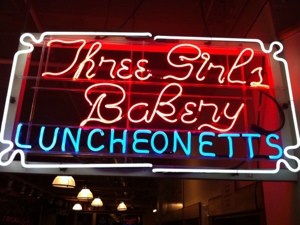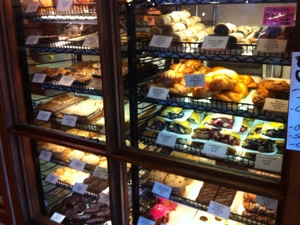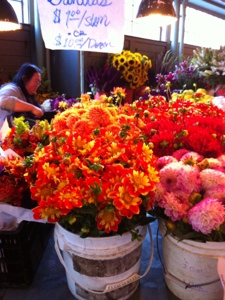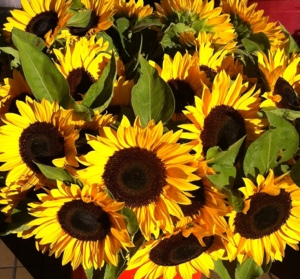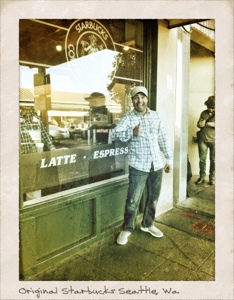 Of course we had to visit the mall while we were there. It was all Jonathan this time. He wanted to find a new pair of shoes to wear to the wedding. There are 2 malls located nearby – one is about 7 miles away and the other one around 15 miles away. The closer mall is not very big but they have department stores such as Nordstroms and Macys. I didn't realize there was a Nordstroms and Macys within walking distance from our hotel until later on that day. People and businesses on this side of the US seem to be more environmentally conscious too. Anytime you check out at a major store they ask you if you need a bag. My first thought was – Of course I need a bag! Then I noticed a sign that says they charge $.05 per bag 🙂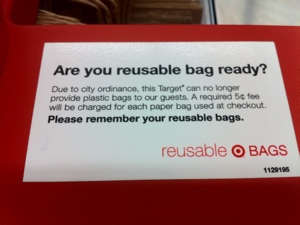 For lunch we enjoyed some mini pork tacos from Los Agaves, Chowder sampler from Pike Place Chowder, and mini doughnuts from Daily Dozen Doughnut Company. Everything was yummy and we were stuffed when we left. I really wanted to try the Filipino place called Oriental Food Mart but was too full to eat anymore. We purchased some Alaskan Halibut from Pure Fish Food Market. Their halibut was $5 less a pound than the Fish place at the main entrance of the market. There were a ton of florist vendors there too. My new favorite flower is the Dahlia. So pretty – would love to be able to buy fresh flower bouquets like that for my house on a regular basis. While at Pikes Place, you have to go visit the original Starbucks too 🙂
Quick Tip: The market is extremely crowded in the afternoon. Try to come earlier when they open or at least map out all the places you would like to visit. Otherwise, we would not have found it enjoyable. We were able to walk the market leisurely in the morning and get in and out of the places we wanted to visit quickly in the afternoon.