Renaissance Time Square
Hotel is located in the middle of Times Square. The play some cool, upbeat music as you walk in – makes you feel very hip. It's a small check-in area but once you are all checked in, you take an elevator to the main lobby.
It was a great location – you are able to catch a cab, subway or bus anywhere you need to go in the city. It's about a 10 minute walk to Rockfeller Center and of course right in the Theater District.
We have stayed in New York City a few times and the hotel rooms are generally smaller but the rooms here were larger. We didn't feel cramped at all. The decor is simple, clean and modern. We had a great view of the city from our room too and we didn't hear a whole lot of street noise. It was also clean which is a high on my list of things I look for in a hotel. The shower had a modern mosaic design which was nice. We would definitely stay there again.
It was nice to have the R Lounge and bar inside the hotel as well if we wanted to get a quick bite or drink at the bar. The concierge was very helpful. His name was Omar. We were planning to stand in line at the main Ticket Stand in Times Square for some broadway tickets and he suggested we go directly to the theaters. He also helped us pick out a few shows to see and printed up some discount tickets. We ended up seeing Jersey Boys and Rock of Ages. We were able to great seats to both shows and probably saved around 30% on the tickets. The line at that ticket stand was ridiculous and it was COLD outside. So glad that Omar helped us get some tickets to some good shows. He also gave us great directions to Greenich Village to get to our Food Tour.
Quick Tip: There are all kinds of restaurants and little hole in the walls on every street. You can definitely find great places to eat that are reasonably priced or even inexpensive. We like to use Yelp and of course your hotel concierge can make some recommendations.
Evergreen Diner – Theater District
The concierge at our hotel recommended this place. It's a diner and it seems like it's always busy. Pretty standard food – we went there for breakfast and had eggs, toast, potatoes and bacon. Coffee was ok. I think it was just under $25 with tip for the two of us. Pretty reasonable prices for being in the middle of Time Square.
Margon's – Theater District
Found this place on YELP – think it's a tiny, family owned business. It's so tiny we missed it walking down the street and had to turn back around. Glad we turned around because this was exactly what we were looking for breakfast. Eggs, bacon, potatoes, tostada, cafe con leche – Yum. This place was cheap for NYC in the Theater District. We definitely paid less than $20 for breakfast including the tip. We saw them making the Cuban sandwiches before we left and ended up coming back there for lunch. We ordered the Cuban Sandwich and it was really good too. They offer a lot of traditional dishes cafeteria style like arroz con gandules and pernil. They gave us a free sample of some chicken drummette which I really enjoyed too.
R Lounge – Renaissance Time Square
Light fare here (appetizers, salads, sandwiches) and some pretty pricey drinks. Our drinks were about $15 each. Best thing about this place is the VIEW. You can see all of TImes Square from here. Definitely hold out for a seat by the front window. I recommend making reservations too. It gets busy early because people stopping in pre-show. We had some cheeseburger sliders which were good. Enjoyed the drinks and the view more!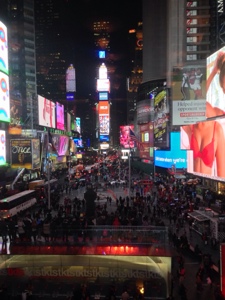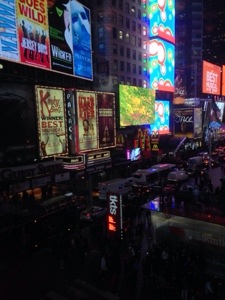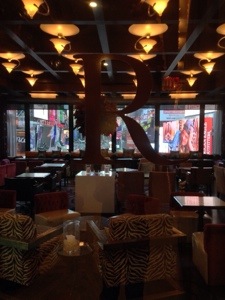 Empanada Mama – Hell's Kitchen
Busy little place in Hell's Kitchen. We were actually lost and stumbled onto this place. Is was so busy there was a line out the door. We were lucky to find a small table for two inside. This place is tiny – you are practically having a meal with your neighbors. The empanadas were really good – I would definitely try the cuban. That was my favorite and the waiter recommended it. In addition to the empanadas, we ordered some tostones which were delicious too.
Magnolia Bakery – nearby Rockefeller Center
Extremely busy bakery near Rockefeller Center. All of their cakes and pastries looked delicious. I only had a cookie and coffee which were average. Jonathan ordered the carrot cake which he really enjoyed. It's a pretty touristy bakery and seems to always be busy but the line moves pretty quickly.
The MET (The Metropolitan Museum of Art)
Features fine art (ancient to contemporary) exhibits and special exhibitions. The museum is so big that you could probably visit a few times and not see everything in there. From Times Square, we had to take a couple of trains and walk a few blocks to get there.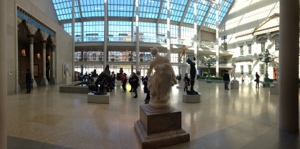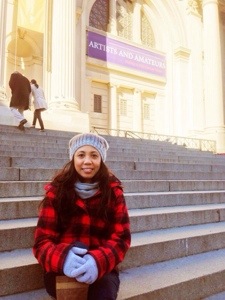 Rockefeller Center/Radio City Hall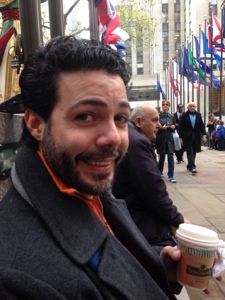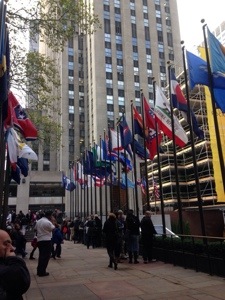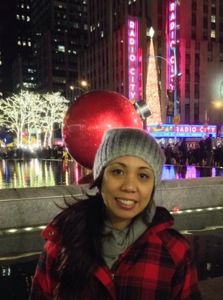 Quick Tip: Go directly to the theater to purchase your broadway tickets. Check with your concierge or online to find some discount coupons.
Rock of Ages
Fun and energetic show with all the classic rocks songs from the 80's. They try to create a rock concert feel at the show and some people stood up and danced. I loved it!
Jersey Boys
Show was about the backstory of the Four Seasons and of course featured Classic Four Seasons music.
Overall it was a great trip. We stayed from Thursday through Friday which was an adequate amount of time to enjoy the city. I could have probably stayed n extra day just to shop! The weather was perfect too – right around the 50s most of the days. We had one rainy day but not so bad that we couldn't walk around the city. I think November was an ideal time for us to go. We went the weekend before Thanksgiving so we missed all the extra holiday visitors in the city plus the snow storm that was coming in the day we left. I was glad to have brought some comfortable boots because you pretty much have to walk to get anywhere.