As usual, we booked our Marriott timeshare for our annual trip to Park City. Marriott has recently switched up their timeshare program and added an option for many owners to trade their weeks for vacation club points versus going through Interval.
This has made it really difficult for us to trade for a week in Park City because most of the Park City owners are trading for points and not depositing their weeks with Interval. Park City weeks during ski season are worth quite a bit of points.
To put into perspective, our 2 weeks in Orlando, FL are worth 1 week of points in Park City during the ski season.
Anyways, the only available week I could get was the very last week of the ski season. We decided to go for it and hope for snow. And snow it did!!! I think Jonathan said there was 17″ of snow up on the mountain. It was a great week and we really enjoyed snowboarding this year. I have always had some issues on the catwalks and flat spots but not this time! Woo Hoo!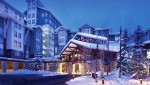 We stayed at the Marriott Mountain Side this year which is at the base of Park City Mountain. It's a ski in/ski out facility equipped with a valet. They can even tune up your boards in the shop onsite.
Rooms are nice and appear to have been renovated since our last stay a few years ago. Our unit had new cabinets, granite countertops, and updated furniture.
My only issue was the shower which they did not bother to upgrade. Old, white, grimy, dirty looking tile with a slow drain. Yuck. The slow drain did not start until about half way through the trip and I never called to have it looked at. We did have an issue with our fireplace and a maintenance guy was at our door within 10-15 minutes of us calling about it.
We don't do a whole lot when we go to Park City – basically snowboard during the day and keep it pretty casual for the evenings. I definitely suggest renting a car while you are there to avoid having to eat at the pricier restaurants on the mountain all the time.
Quick Tip: I recommend reserving a vehicle in advance at price you are comfortable with. But keep checking Kayak or Orbitz for price drops up to a week prior. I have been able to save $50-$60 by continuously checking the rental prices. You can cancel your previous reservation with no penalties or charges.
According to Yelp and Trip Advisor, there are a ton of top notch restaurants in town if you are a foodie. A lot of them are located on Main Street which is their cute down town area. After being on the mountain all day, we just want to go somewhere really casual for a simple meal and maybe a good cocktail. Some of our favorite places to eat are:
1. El Chubasco – mexican food
2. Corner Store – located at base of mountain but great to stop in for basic bar food and appetizers with drinks. Meals are a bit more pricey here because of the location.
3. Szechwan Chinese Kitchen – located in Kimball Junction area closer to the Tangier Outlets
4. Legacy Lodge – also located at the base of the mountain. Chicken nachos were pretty good there. Again, pricier place because of the location.
5. Sammy's Bistro – Had a pretty good burger and wings there. Definitely a lot of locals there.
6. Eating Establishment on Main St. – we always stop in for breakfast here on our way out of town.
(For my full reviews, please go to my trip advisor reviews at http://www.tripadvisor.com/members-reviews/RachelC212)

We usually take a break one day from snowboarding. We like to go and get a massage on our break day. Hotel recommended Align Spa. Prices were average, not over the top. $65 for a 50 minute swedish massage or $75 for an hour. It was nice atmosphere and the therapists and staff were very nice and helpful. We left ready to hit the slopes again. I'm sure we will be back to visit.